ExpeditInvaders Light System
Like many peo­ple I own an IKEA Expe­dit shelf. I added some LED mod­ules behind the shelf, now the shelf looks superb, but look yourself: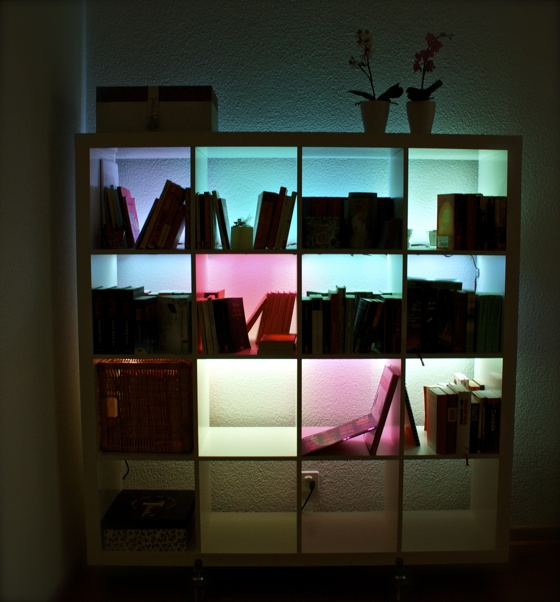 Cur­rently Expe­dit­In­vaders sup­port 10 color sets (RGB, Rasta, CGA, Brazil, Fizz, Kitty, Neon, Lantern, Lem­ming, LeBron) and 6 ani­ma­tion modes (Ran­dom, Solid, Ordered, Check­board, Weird, Weirdtwo).
Best thing yet, you can change the color set or ani­ma­tion mode with a flick of your toes on the PS2 key­board attached under the bookcase. The key­board has a spe­cial key map installed, if a key on the left side is pressed the color set change, if a key on the right side is pressed the ani­ma­tion will change.
How do I assemble an ExpeditInvaders System? What do I need?
What is additionally required to assemble a StripInvaders System?
An Arduino Board (doesn't matter which one, Duemilanove, UNO, Leonardo or a clone)
12 Volt power supply – you may use an old ATX Power supply
LPD6803 Led Modules (I sell some on my Shop)
Time and patience
A PS2 Keyboard
Grab the latest Firmware from my GitHub page
Showcase Video
ExpeditInvaders Showcase from michu on Vimeo.
More Images